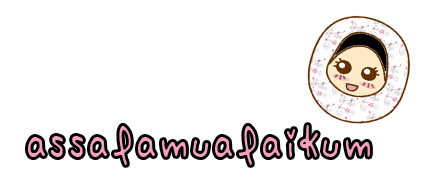 UPDATED GA
UPDATED HADIAH
UPDATED HADIAH
Hello and annyeonghaseyo earthlings ! hehe. .sukacita ziha nak maklumkan. .ziha nak buat giveaway. .asyik join giveaway orang je kan. .acctually. .dah lama ziha nak buat. .setelah berfikir masak2 n pikir hadiah ape nak bagi. .akhirnye. .ziha dah buat keputusan nak buat jugak. .even hadiah dia tak seberapa dan tak semahal. .tapi ziha ikhlas nak bagi korang. .okee. .ziha tak nak lah bebel panjang2. .so. .jom tengok syarat-syarat dan hadiah yang bakal korang dapat. .
Syarat-syarat penyertaan
1. Buat satu entry pasal giveaway ni. .tajuknya ialah 1st Giveaway Forever Young By Nazihah Hsn
2. Letak banner yang kat atas tu dalam entry korang then linkkan kat blog ni.
3. Follow blog ziha. .tak nak takpe. .tak pakse pun. .:D
4. Like fan page blog Nazihah Hsn. .sama jugak. .takde sebarang paksaan. .
5. Tag seberapa ramai kawan yang boleh. .kalo boleh. .biar diowg taw. .heheh. .at least 4 orang. .
6. Last but not least. .tinggalkan link blog korang kat komen entry ni. .
Hadiah-hadiah penyertaan
1st prize
Pensel case hand made with topup RM 10
2nd prize
Pensel case hand made with topup RM5
3rd prize
Pensel case hand made
attention please. .!
haha. .dah baca kan sume syarat2 dan hadiah2nye. .okee. .bgoz2. .design pensel case tu lebih kurang camni la. .designnye ziha akan tempah dengan kawan ziha. .jangan risau. .designnye boleh bincang bila pemenangnye dah diumumkan. .
okee. .satu hal lagi. .same jugak dengan blogger lain yang buat giveaway. .kalo penyertaan kurang daripada 20. .secara automatiknye. .giveaway ni akan dibatalkan. .
so. .ape tunggu lagi. .jom ajak kwan2 join giveaway ziha yang tak seberapa ni. .hehe. .sebarang pertanyaan. .bolah pm ziha kat fb
ziha
. .ataupown. .kat fan page. .kerjasama anda semua amat dihargai. .satu lagi. .kalo ade diantara korang yang nak kongsi buat giveaway dengan ziha. .dialu-alukan. .sama jugak. .pm ziha kat fb ataupown kat wall fan page. .
terima kasih daun keladi. .datang la lagi. .hehehe